The smart choice for MSPs.
No one likes chasing payments.
Getting paid quickly is critical to your success. You need a secure, affordable solution that automates receivables, integrates with your tools, delights customers and just works. And you want to work with people you can trust.
But your current solution is manual, error prone, expensive, may have subpar service and has you feeling locked in with little to no choice.
Don't settle for less than you deserve.
Join the growing community of Managed Services Providers who are trusting Benji Pays to automate their payments. Make the smart switch today for pain-free, efficient payments, and experience the flexibility of a choice in payment processors without long-term contracts.
Start your free trial
View a demo
A best-in-show customer portal.
With zero setup required, our customer portal makes it easy for your customers to manage their account and get visibility over their account history. The result? Self-serve simplicity for your customers, and fewer "how do I?" questions for your team.
No invoice hunting at tax time—customers can retrieve old invoices from the portal.
Multiple invoices? No worry. Customer's can easily batch and pay them.
Make it easy for them to pay on time. Customers can schedule payments through the portal.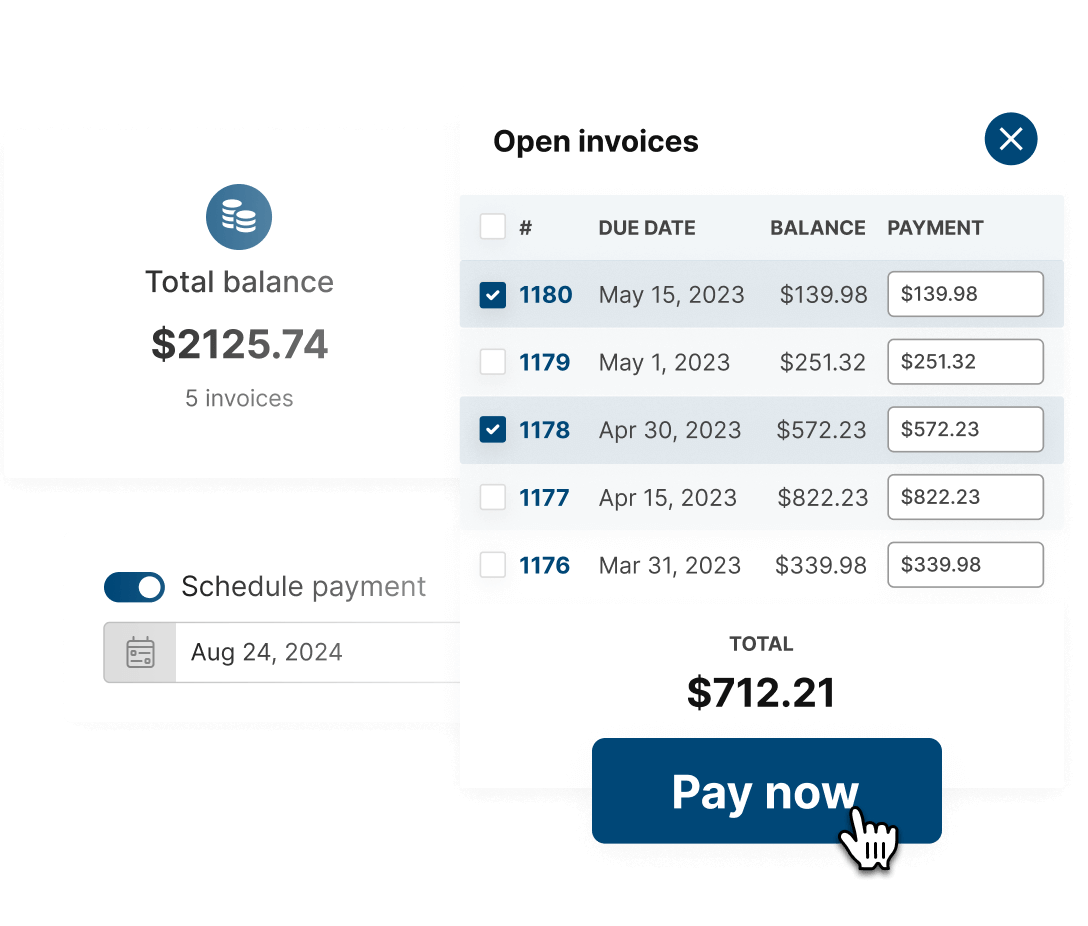 Pay Now Links.
Send Pay Now Links directly from your PSA, from QuickBooks or from Benji Pays. Your customers can pay their invoices, and the payment will posted automatically back to your accounting system.
Your customers can use your branded Customer Portal to pay invoices, view their history, manage their payment methods and more!
Auto Processing.
Benji Pays has you covered – the easiest way to set your customers and invoices up for Auto Processing.
Auto Pay rules for your custom process (growing constantly)
Payments reconcilled instantly
Receipts and paid invoices sent automatically
Credit card, ACH and EFT payments
Bring your own merchant account.
Connect almost any merchant account. That means you can negotiate your own processing rates and use Benji Pays to automate your payments. You can save thousands of dollars per year on your processing. Need help finding a new merchant account with great rates?
Transparent pricing.
We charge for the service provided, which is integrating and automating your payments. Whether it's $10 or $10,000, it's still one transaction and we'll treat it as such.
No setup fees.
We want you to be successful in using Benji Pays. There are comprehensive in-app flows to help you get set up in minutes and we're here to help.
ACH, EFT and Credit Card Surcharging
You want to get paid quickly and you need to do it cost effectively. But the cost of credit cards is becoming more than you can handle.
Combine ACH and EFT payments with our surcharging feature to help lower your cost of doing business.
Integrations you can rely on
HaloPSA is an all-in-One PSA Software for Service Providers. Adding Benji Pays gets you integrated payment links, automated, invoice driven payment processing and posting to your accounting system. See more at halopsa.com and see the documentation for more details.
Datto's Autotask Professional Services Automation (PSA) is a powerful and intuitive cloud-based PSA platform providing a singular view of the entire business. See how easy it is to connect to Benji Pays to automate and integrate your payments in our documentation for more details.
Trusted by Managed Service Providers